Last season's Arctic Training was a blast! And here are some of the highlights:
Clients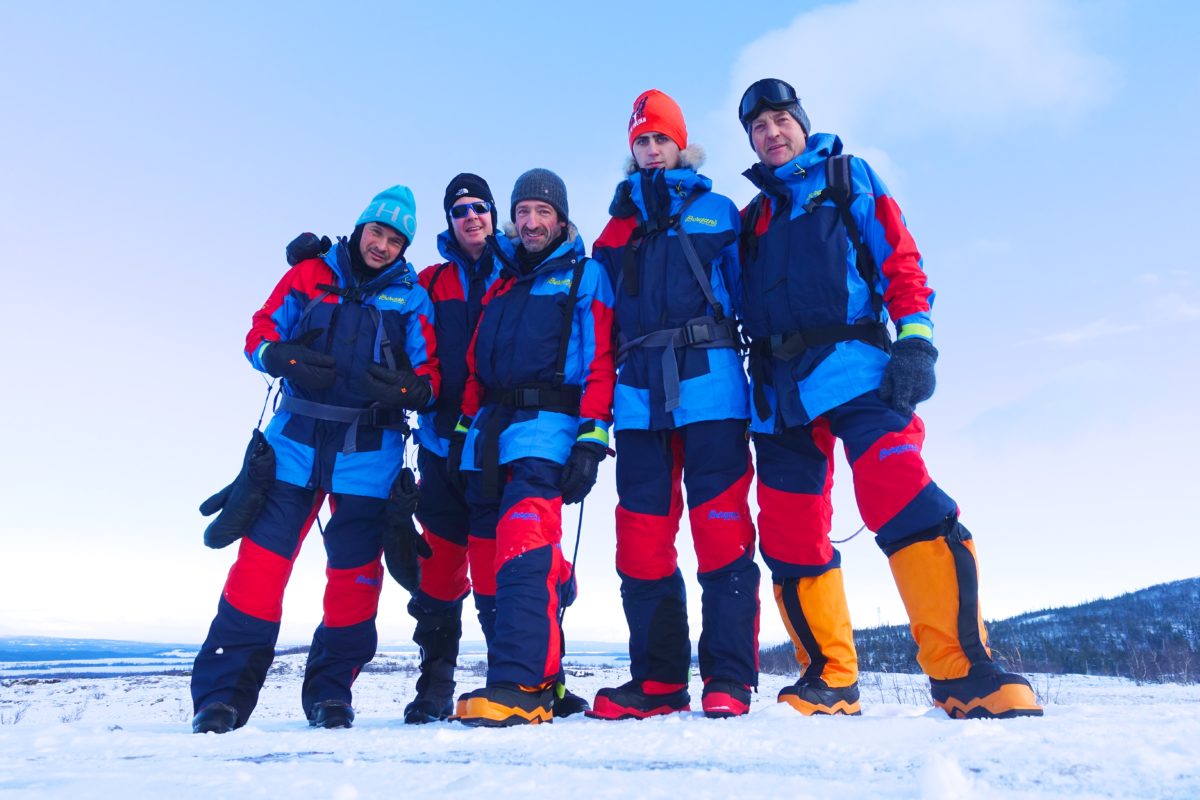 An international group of 6 friends and family trained with us two times to prepare for their 180km antarctic expedition. This is a trip named "Shackleton's unfinished journey" and is a serious expedition in the cold and windy snow desert at 3000masl. You do not want to start this trip unprepared! The six men on the South Pole team were Alexander Izosimov, Lars Korduner, Robb Waterman, Gennady Jilinski, Michael Dryden and David Izosimov who is Alexander`s 16 years old son! We take our hats off for these guys!
The training consisted of testing out clothing and equipment, stoves, food, skis, boots and winter camping skills and routines such as putting up and securing tents in bad weather. The team also wanted to ski long days and feel the weight of the sleds they would use in Antarctica so we had prepared them a gift 60-80kgs of sandbags each.
The guys reached their goal – the South Pole itself on January 10th 2017.
Kieran and Ginny
Kieran King and Ginny Amanda working for Save The Children in France/South Sudan was very serious about their Greenland Crossing in May 2017. They started out with the Enhanced Arctic Expedition Course with us and then decided to move to Norway to train even more. We helped them to get work as dog mushers for our partner Bodil Bakken in Norway Husky Adventure so they could live with snow and cold conditions from January until the start of their expedition in May.
Here is a "thank you" video they made for us on the icecap of Greenland.
Media: World Nomads Extraordinary Experiences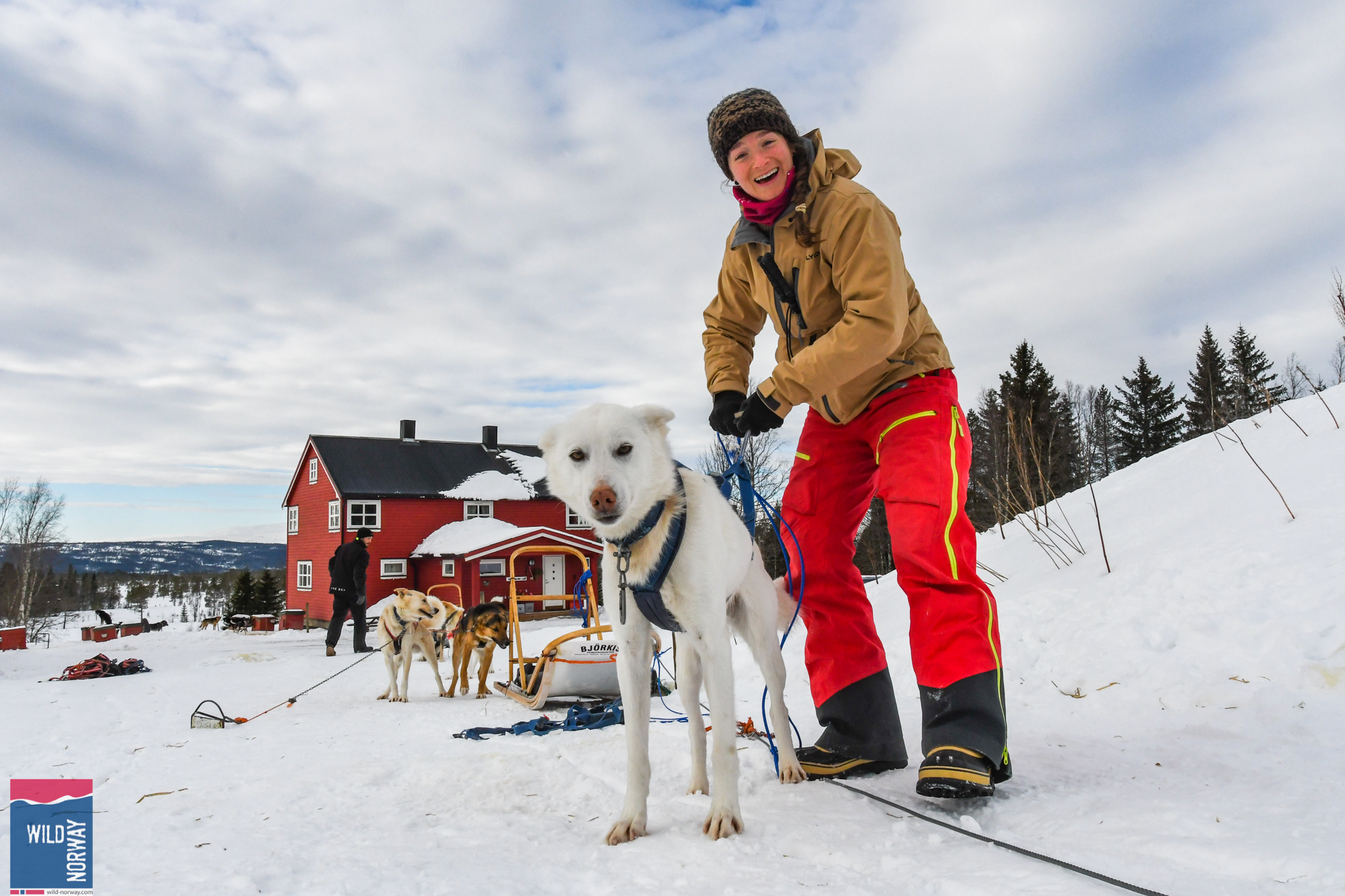 In March we got to host World Nomads Extraordinary Experience Campaign winner Carly Monahan from Vermont US, on 9 days "Best of Wild Norway winter experience". Muskox Safari, Arctic Expedition Training, Dogsledding, Reindeer sledding, meeting the man and reindeer that formed the characters in Disney's Frozen, Beer tasting, local food experiences, XC-skiing with Olympic Champion Frode Estil and much more. There is nothing as fun as showing people like Carly the best of what our region has to offer. Read the full story HERE and see the campaign videos HERE.
Duke of Edinburgh Awards (DofE)
Thanks to the efforts of DofE Diamond supporter, Mr. Martin Lovegrove, we had our first group from DofE on our Arctic Expedition Course. We had some senior members of the organization, along with 3 young Gold Award leaders, attending on what was for them, a challenging course.
It was truly a pleasure sharing our knowledge with these young, enthusiastic volunteers who are normally giving up their time to teach and help others. We look forward to working more with the DofE in the future and helping to make a positive difference to the lives of the young people involved.
Take a look the some of the photos from the course. I think the photos speak for themselves.
We were very impressed with how the group handled the challenging conditions and hostile environment. With a little more arctic training these people are ready for the South Pole!
Individual clients
It is extremely satisfying to be hosting people from all over the world, and seeing how they take on steep learning curves, boost their skills and become comfortable in the hostile Arctic environment.
They all become our friends.
One guy who is very special to us is Mr. Darren Jordon from Jamaica/UK. Darren has been with us frequently for several years on the Arctic Expedition Course, Muskox Safari and dogsledding.
In between, he is off to Iceland, Greenland, and Svalbard to do other amazing adventures.
Darren is working as a newsreader for Al Jazeera in Qatar, but loves the cold of the arctic!
Darren has the biggest smile and he always brings lots of good stories and the newest and best kit available on the market!
Partners
Mr. Rhodri Lewis has become an essential partner of Wild Norway/Arctic Training & Expeditions.
Rhodri's business, Nordic Life, supply our customers with the best clothing and kit for our training courses and expeditions.
We started up doing this job ourselves but found out that we should stick to what we are good at, the Arctic training and expeditions, and let a professional partner like Rhodri supply our clients with the right kit. Rhodri and ourselves are in sync when it comes to kit. We speak frequently and he comes over to Norway every winter to test out new kit and equipment with us. This ensures he knows the kit that the users will need, and more importantly how to use it.
This season, are you ready to go on an expedition with us?